Are you looking for the best travel box for kids? If you are wanting to bring the world to your kids or something to keep them busy during your staycation, this post is for you!
Travel subscription boxes for kids are a great way to introduce them to different cultures, teach them geography, and open their minds to the world, and remind them of a favorite place they've visited (even Disney World.) And, a kids travel box makes a great holiday gift that lasts throughout the year.
Whether you are preparing your kids for future travel, looking for something to do during a summer staycation, or are looking for multicultural education and homeschooling resources, travel subscription boxes are a great way to keep kids' wanderlust alive while learning about a different country each time.
This post contains affiliate links which means I receive a small commission at no additional cost to you should you make a purchase using this link. See my disclaimer.
Why You Should Buy Travel Box Subscriptions For Kids
Travel box subscriptions make fantastic gifts. They come monthly, offer play based learning activities, keeping the celebration and surprises coming long after the holiday or birthday.
They also offer an alternative to toys and electronics. If you are looking for an educational, hands on activity-based gift that keeps kids entertained and teaches them something new or inspires them, a travel box makes a great gift. Plus, kids will remember you (looking at you grandparents, Aunts and Uncles) each time they get their next travel box or geography subscription box in the mail.
Why I Have Purchased Travel Box Subscriptions For Kids
A few years ago, we bought our kids a subscription to the Little Passports World Edition Subscription box for my twins' birthday. Not only was it the gift they anxiously anticipated each month, but the fun activities taught them about different cultures, new places, map reading, geography, and history. They even got a toy and a book to keep them engaged and inspire their curiosity.
Even though the monthly subscription box ended over a year ago, my kids STILL come back to their Little Passports World Edition suitcase to complete the hands on activities, look at the map, or even bring it to school for Show and Tell.
The Best Travel Subscription Boxes For Kids And Families
I am a huge fan of travel subscription boxes for families as a way to "travel from home" or to keep kids connected to a favorite place.
When so many kids have been home from school this summer and beyond, the travel box subscription offers multicultural educational opportunities to introduce kids to different countries and foods around the world for kids. Educational subscription boxes can also support learning in geography, social studies, science expeditions, and foreign languages. Most subscription boxes bring kids magic and pixie dust to brighten their day!
So, I have rounded up a list of the Best Travel Subscription Boxes for traveling kids and families.
World Culture and Geography Subscription Boxes For Kids
Kids can learn about the world through one of these educational, interactive travel-themed subscription boxes.
Little Passports Early Explorers is a perfect monthly travel-themed subscription box to inspire the youngest of globetrotters to open their minds to the world and travel from home. For kids ages three to five years old, this award-winning educational subscription box for kids introduces world themes through music, oceans, and dinosaurs using activity packs, stickers, toys, souvenirs, and more.
Early Explorers will increase any child's curiosity about new places as their boxes focus on a new country every mailing.
Little Passports World Edition is the perfect introduction to world cultures for kids ages six to ten years old. In fact, it is one of my favorite travel boxes for kids out there.  Each mailing after receiving the initial kit includes a variety of items including an activity booklet, a toy, souvenir or craft, a letter from your pen pals Sam and Sofia, and more. Each mailing is themed on a specific new country to help children learn a lot about that one country and culture. 
Recently, Little Passports also launched their new cooking for kids product! This adds another great way for kids to learn about foods from around the world and to learn about world cultures.
Kiwi Co's Atlas Crate is another fantastic world culture and geography box for kids.  Designed for kids ages six to 11 years old, this box includes immersive, hands-on STEAM activities to help kids connect with countries around the world. 
The first box starts kids off with the World Box, which introduces them to pals Anya and Milo. It is a great introduction to geographical skills, a spinning globe, starter atlas cards, and more. It is then followed by the Japan and Peru crates and more.  Kiwico's Atlas Crate includes STEAM projects, atlas cards, inspirational cards, and an atlas adventure book
Similar to Little Passports with a twist, the
WompleBox
introduces kids ages six to eleven years old to other cultures. But this geography subscription box does so with exciting adventures like treks through glaciers, wildebeest migrations, and dragon adventures with their adventure penpal Womple. Each mailing includes an illustrated adventure book, map, unique cultural craft with enough supplies for two kids, key chains, and more.
Our Little Globe
is a Britain-based travel subscription box company that ships worldwide its adventure boxes to kids ages five to ten years old. Similar to other
travel box subscriptions
, Our Little Globe includes a monthly mailing of an illustrated map, activity sheet, craft, and penpal letter to teach kids about another country or culture.
But it also adds a recipe card and spice pouch to taste your way around the world. Each of their kids travel boxes focuses on the message "different is brilliant." You also can select just the pen pals letter set if you do not want a complete box.
Very similar concept to the above boxes,
Geo Journey
travel subscription boxes monthly cost is about half the cost of Little Passports. It may be a great geography subscription box to start for your curious globetrotter.
The initial mailing includes the suitcase, travel journal, and map. Then, each monthly mailing includes activity packs, stickers, travel tickets, a postcard, and a souvenir to teach kids about other countries.
Available at a good price with lots of craft activities, Geo Journey is one of the best monthly boxes for kids who love to learn about different countries.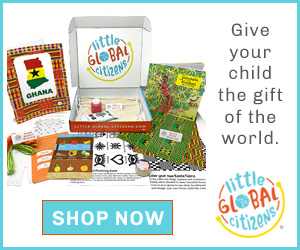 Little Global Citizens
is similar to the above travel box subscriptions with one notable difference. They have a heavy focus on introducing children not just the country but to the culture as well.
When you compare Little Passports vs Little Global Citizens, Little Passports does touch on this. But, Little Global Citizens makes multicultural education the main focus of their boxes.
Another difference between Little Global Citizens vs Little Passports is that they send their mailings every TWO months instead of monthly, and you can opt for a sibling package. Inside the boxes include authentic guides, educator designed crafts, an activity pack, language skills, recipes, and a high-quality storybook.
Kids Cooking/Food-Based Subscription Boxes
Kids can taste the world through one of these food-based travel subscription boxes.
The
Culture Cakes Kit
is a novel travel box subscription that kids will love! It not only introduces them to flavors and food around the world for kids, it gives them a cool recipe to create something new with it!
Each box includes snacks from another country, exotic ingredients, and baking supplies. You also receive a cultural booklet and a recipe to make a cupcake using the ingredients in the box.
Disclosure: I was gifted a snack box by Universal Yums for review, however, my review and opinion is my own.
If you are looking for a fun travel-themed subscription box your kids will marvel at, Universal Yumsis one not to miss. Our kids LOVE to try snacks and treats from other countries as a way to see what other kids like. Now, you can get these cultural delights right at your door.
Each box contains country-themed snack items and an activity sheet to teach kids facts about that country. Our box was from Sweden. We were delighted with the variety of delicious Swedish biscuits and chocolates that arrived in our travel subscription box.
For kids who love to cook,
eat2explore
is a family cooking travel box subscription that teaches kids about other countries and cultures through food. Each monthly box includes three recipe cards, hard to find spices and a shopping list. Kids will love the country explorer brochure, activity sheets, cooking tools, and collectibles. Take 15% off with the code
New15.
Try The World is another great way to discover flavors from around the world. Geared more toward parents, each box includes a country-themed collection of seven to eight gourmet products from around the world. Some are stand-alone foods and others are spreads or ingredients for you to taste the world. Get $10 off with code TAKE10.
Spices are one of the signature ingredients in many styles of cooking around the world, so a great way to introduce your family to other cultures is through a monthly spice subscription box from Spice Madam.
This box focuses on a different global destination each month. Each one provides spices specific to that location. You also receive three to five recipes, a themed playlist, and a postcard with fun facts about the destination.
Disney-Themed Travel Boxes
The magic of Disney can spread pixie dust all over your doorstep with one of these Disney-themed travel boxes.
Can't make it to one of the Disney theme parks? No problem! The
Walt Life
Disney inspired subscription box brings magic to your door each month with either a Disney or Disney Parks themed box filled with snacks and/or souvenirs. You can even personalize and customize your boxes.
Similar to the Walt Life box,
Mickey Monthly
is a Disney-themed monthly subscription box delivering magic to your door each month. Each month is themed with Disney souvenirs and/or snacks, and you can customize the boxes.
Choose from the "original edition", "theme park edition", or the "pin collection" for those who are avid Disney pin collectors. You can also purchase a one time box instead of a monthly subscription. Get 10% off with the code
CJMP10
.
Main Street Mailbills itself as the most customizable of Disney-themed travel subscription boxes. It focuses on the primarily smaller Disney shops and Disney park merchandise.
A bit more expensive than the others, its products are high-quality souvenirs and snacks. You can order a one time box as a gift or to try it out before committing to a subscription.
Harry Potter World Travel Boxes
This is not your mama's howler, Ron! For Harry Potter World super fans, these Harry Potter travel subscription boxes are a great way to apparate yourself right into the world of wizards!
My favorites include the Wizarding World box from Loot Crate and the Harry Potter subscription box by Accio! through Crate Joy offers a variety of magic in each box that Harry Potter fans will enjoy.
Accio! and the Wizarding World box are great gifts for aspiring wizards at home! And as our family reads Harry Potter together each night, these are two of my absolute favorite travel boxes for families!
Looking for more unique travel subscription boxes? Check out Crate Joy for more options!
Final Thought About Travel Subscription Boxes For Kids And Families
Travel subscription boxes for kids and families make wonderful gifts for travelers. They keep kids wanderlust alive for their favorite places and open their minds to new countries and experiences. They can also be added to any homeschool curriculum or fill kids' time during a staycation.
Like This Post? You May Also Like These
101 Kid-Friendly Recipes From Around The World
15 Travel and Multicultural Education Activities For Students At Home
Walt Disney Resort For Beginners: A Complete Guide To Plan A Disney Vacation
Sharing is Caring
Help spread the word. You're awesome for doing it!